L'actrice Mugdha Godse défile pour le couturier indien Satya Paul lors du Indian Fashion Week 2009 :
Shriya Saran : du Sud au Nord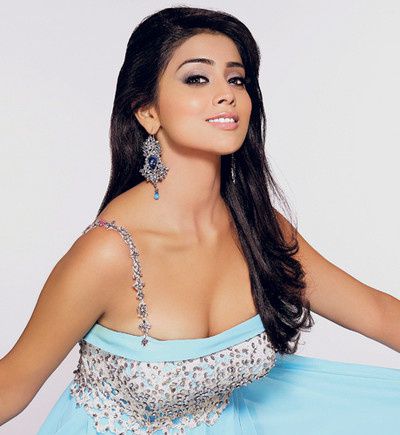 La carrière de Shriya Saran à Bollywood n'a pas bien marché et elle n'a pas été capable de se refaire un nom car ses "come back" 'Awaarapan' et 'Mission Istanbul' n'ont pas eu le succès attendu. Même son "voyage" à Hollywood s'est révélé être infructueux avec le film d'Ashok Amritraj 'The Other end of the line'.
Alors, la beauté qui a brillé dans l'industrie cinématographique du sud se transforme en une fille du nord de l'Inde dans le film 'Ek The Power of One' un autre come back de Shriya. Dans le film produit par K Sera Sera, Shriya s'essaye le rôle d'une fille simple du Punjab.
Dans le film, sa créatrice (vêtements) Falguni Thakore a donné des couleurs splendides et vivantes et elle portera aussi le Phulkari traditionnel. La créatrice a dit, "Avec Shriya, j'ai eu l'avantage d'avoir une fille naturellement très gracieuse avec un beau teint. J'ai utilisé beaucoup de mousselines de soie et d'étoffes venteuses qui ont ajouté à la forme féminine pour son look.

C'était une belle expérience de recréer les sandales du Punjab et les boucles d'oreilles et allant même dans les plus petits détails avec le "parandi " tout ça pour accomplir le look d'une fille du Punjab. L'influence du Nord a été incorporée dans la forme et la conception de ses costumes.
sskk
[PHOTOS] Adhyayan Suman's website launch
L'acteur de Bollywood Adhyayan Suman lance son site officiel :
[PUBLICITE] Asin in 'Fairever Fruit' Advert
Asin dans la publicité tv pour la marque de cosmetique Fairever Fruit :
[MAKING OF] Konchem Istam Konchem Kastam avec Siddharth
Le tournage du film telegu Konchem Istam Konchem Kastam avec Siddharth Narayan ;
Genelia D'Souza nouveau look
Decouvrez Genelia D'souza dans un look plutot méconnaissable, est ce bien elle ?