Anushka Sharma se rend compte que débuter sa carrière dans un film de Shah Rukh Khan (Rab Ne Bana Di Jodi), n'est pas si profitable que ca
SRK braqua tout les projecteurs sur lui tandis qu'au final, l'actrice n'a eu que peu d'attention. Elle est également sous contrat avec la bannière Yash Raj, ce qu'il fait qu'elle ne peut pas travailler ailleur en même temps.
Ceci, est également un frein à sa carrière tout comme le fait que peu d'organisations viennent la promouvoir
L'actrice rentra récemment du Zee Carnival à Londres où elle a vécu une fabuleuse expérience.
Anushka dit qu'elle était choqué lorsque qu'une personne vena vers elle pour lui dire qu'elle était fan de l'actrice.
"Je n'ai jamais rencontré quiconque jusqu'ici qui m'a dit qu'il était fan. Je suppose que ce sentiment c'est estompé par la suite. Maintenant je veut que plus de personnes viennent à moi pour me dire qu'ils sont fan de moi. Je veux l'entendre encore et encore," dit l'actrice qui n'a jamais rencontré de fans en Inde jusqu'ici.
En effet, elle a besoin de montrer son talent avec Yash Raj Studios pour obtenir de plus en plus de fans.
Malgré l'inconvénient de faire profil bas, Anushka sait qu'elle peut compter sur Yash Raj. Pourtant, rester en dehors des projecteurs irrite l'actrice au plus haut point. Il fut un moment où elle aurait pu faire la une des magasines, mais c'est sa compatriote Asin qui attira toute l'attention des médias et de la presse avec la sortie de Ghajini

Nous supposons que la célébrité a un prix. Anushka devra attendre la sortie de son prochain film avec Yash Raj films. Et même si cela prendra du temps, sachant que rien n'a été encore finalisé.
slink
Imran Khan et Ranbir Kapoor présentent les FFA 2009
Les deux acteurs de Bollywood Imran Khan et Ranbir Kapoor ont présenté les filmfare awards 2009. Un duo plutot surprenant et qu'on aimerait bien voir à l'écran :

Saif Ali Khan en Mauritanie
Saif Ali Khan en mauritanie, elle n'est pas amusante cette photo :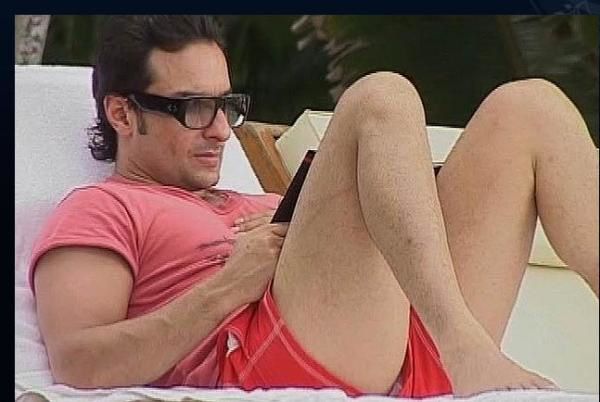 Aishwarya Bachchan est assise à coté de Shahrukh Khan

Lors des Filmfare Awards 2009, l'actrice de Bollywood Aishwarya Rai, plus specialement Abhishek Bachchan était assis au coté de Shahrukh Khan, comme nous le savons les Bachchans (Amithab, Aishwarya) sont pourtant en froid avec le king Shahrukh Khan, mais il est vrai que depuis une approche cordiale entre ces 2 a été faite lors de la premiere de Drona.


Nous ne le voyons pas forcement, mais dans cette rangée d'autres stars en froid avec les Bachchans, finalement ils sont bien obligé de s'assoir meme si ca leur plait pas, il n'y a pas d'autres solutions :

Nous avons de gauche à droite : Amithab Bachchan, Aishwarya Rai Bachchan, Abhishek Bachchan, Shahrukh Khan, Gauri Khan, Priyanka Chopra, Saif Ali Khan, Kareena Kapoor et Rekha :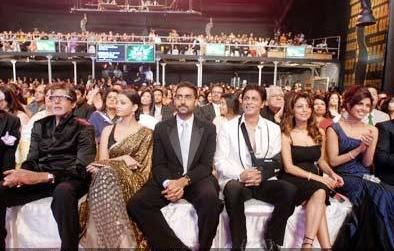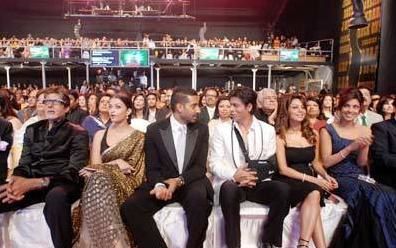 Les gagnants des 54th Idea Filmfare Awards 2008
Voici la liste des gagnants des
54th Idea Filmfare Awards 2009 ;
BEST ACTOR IN A LEADING ROLE
Hrithik Roshan - Jodhaa Akbar

BEST ACTRESS IN A LEADING ROLE
Priyanka Chopra - Fashion

BEST FILM
Jodhaa Akbar

BEST DIRECTOR
Ashutosh Gowariker - Jodhaa Akbar

BEST SUPPORTING ACTOR (MALE)
Arjun Rampal - Rock On!!

BEST SUPPORTING ACTOR (FEMALE)
Kangana Ranaut - Fashion

BEST DEBUTANT (Male)
Imran Khan - Jaane Tu... Ya Jaane Na
Farhan Akhtar - Rock On!!

BEST DEBUTANT (Female)
Asin - Ghajini

BEST STORY
Abhishek Kapoor - Rock On!!

BEST SCREENPLAY
Yogesh Vinayak Joshi & Upendra Sidhaye - Mumbai Meri Jaan

BEST DIALOGUE
Manu Rishi - Oye Lucky! Lucky Oye!

BEST BACKGROUND SCORE
A. R. Rahman - JODHAA AKBAR

BEST MUSIC DIRECTOR
A. R. Rahman - Jaane Tu... Ya Jaane Na

BEST LYRICS
Javed Akhtar - Jodhaa Akbar - Jashn-e-Bahara

R. D. BURMAN AWARD
Benny Dayal - Yuvvraaj - Meri Dost Hain

BEST PLAYBACK SINGER (MALE)
Sukhwinder Singh - Rab Ne Bana Di Jodi - Haule Haule

BEST PLAYBACK SINGER (FEMALE)
Shreya Ghoshal - Singh Is Kinng - Teri Ore

OUTSTANDING PERFORMANCE
Prateik Babbar - Jaane Tu... Ya Jaane Na
Purab Kohli - Rock On!!

BEST DIRECTOR (CRITIC)
Nishikant Kamat - Mumbai Meri Jaan

BEST ACTOR (CRITIC)
Manjot Singh - Oye Lucky! Lucky Oye!

BEST ACTRESS (CRITIC)
Shahana Goswami - Rock On
LIFETIME ACHIEVEMENT AWARD - 1
Bhanu Athaiya
LIFETIME ACHIEVEMENT AWARD - 2
Om Puri
SONY FILMFARE BEST SCENE OF THE YEAR
Aditya Chopra - Rab Ne Bana Di Jodi - 'Flower on the Dining Table' scene
TECHNICAL AWARD
BEST CHOREOGRAPHY
Longines Fernandes - Pappu Can't Dance Saala (Jaane Tu... Ya Jaane Na)
BEST EDITING
Amit Pawar Mumbai Meri Jaan
BEST PRODUCTION DESIGN
Vandan Kataria & Monica Angelica Bhowmick - Oye Lucky! Lucky Oye!
BEST ACTION
Peter Hein - Ghajini
BEST VISUAL EFFECTS AWARD
John Deitz - Love Story 2050
BEST BACKGROUND SCORE
A R Rahman - Jodhaa Akbar
BEST COSTUMES
Manushee Sharma - Oye Lucky! Lucky Oye!
BEST CINEMATOGRAPHY
Jason West - Rock On!!
BEST SOUND DESIGN
Baylon Fonseca & Vinod Subramanyam - Rock On!!



En gros c'est Jodha Akbar et Rock On qui raflent tout, pourquoi ils ont ajouté Idea ? C'est plus simple de dire Filmfare Awards 2009 ?



[PHOTOS] 54th Idea Filmfare Awards 2009
La cerémonie des 54 eme Idea Filmfare Aawards 2008 a eu lieu hier, et tout le grappin de Bollywood était présent que du beau monde :
Et c'est parti pour mes commentaires que tout le monde apprecie ;
sublime, mais on dirait que c'est du deja vu !
Kareena est magnifique et Saif pas terrible la cravate
tout en rayure
La princesse leila est de retour
Les photos ne sont pas bonnes j'en posterai de meilleurs ! De plus, ils manquent du monde tels les soeurs SEN !
Rani Mukherjee est jalouse d' Asin
Asin est devenu l'actrice phare après le succes du film Ghajini avec Aamir Khan mais n'a pas plu à de nombreuses actrices séniors
Asin a recu une belle offre pour un film des productions Yash Raj au coté du king de Bollywood Shah Rukh Khan après que Katrina Kaif ait refusé, sans doute parce que Salman Khan n'aurait pas apprécié la voir jouée avec son ennemi SRK. Mais finalement, la perte de Katrina n'a pas été profitable à Asin, car Rani Mukherji, la reine des Yash Raj Films (YRF), n'a pas du tout aimé le fait qu' Asin a été choisie à sa place. Ainsi, Rani a clairement fait savoir son point de vue à Aditya Chopra, qui a finalement donné raison à sa jalousie et c'est ainsi qu' Asin a perdu un beau role et sa chance de jouer avec Shahrukh Khan.
Mais l'actrice du sud Asin n'est pas la seule à avoir subi la jalousie de Rani.
Anoushka Sharma est une autre victime de Rani Mukherji, elle n'a pas eu aucun film après Rab Ne Bana Di Jodi, même si elle a signé un contrat pour trois films avec YRF.
Mais que se cache derriere ce visage angelique de Rani ?