Asalu Krishna vamsi teesina movie ye na anipinche antha chendalam ga undi cinema.
movie ki asset antu unte adi appudappudu andam ga kanipinchina Genilia. tarun just okay ga unnadu. ahuthi prasad comedy kontha varaku parvaledu aina maree boothulu vadatam assalu baledu. maree darunam ga "ERRI PEKA" lanti words ni use cheyyatam. heroin chetha ma nannau L*ja Koduku anipinchatam maree rotha ga anipinchinid.
Music and BGM aithe inka daridram ga unai, editor gariki personal ga namaskaram pettukovali. scene enthaki avvaka povatam..oke scene ni ala ala ala drag cheyyatam. matallo express cheyyalem a narakam ni
asalu ilanti subject ni movie ga teeyali anukovatame pedda tappu, daniki sasirekha parinayam ani oka manchi classic title ni waste chesaru. theater lo interval ki velli poina vallu 10mandi. inko 30min cinema migili undi anga vellipoina vallu oka 100 mandi..inka lst song time ki theater 70% khalee aipoinid. families, ladies andaru lechi vellipoyaru. last year movies tho compare chesukunte..KEKA inka better ani chaala mandi chepparu. so inka meere decide chesukondi movie fate ento ani.
DISASTER movie ani na strong feeling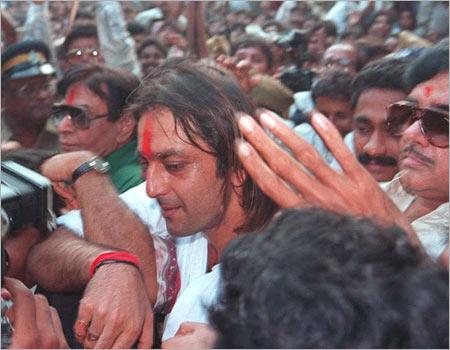 Dutt will be sent to prison straight from the court, which is located inside the Arthur Road jail premises in central Mumbai.He was fined Rs 25,000

Judge Kode pronounced Dutt an offender and said he was present at a dinner party attended by fugitive gangster Dawood Ibrahim, the main accused in the 1993 blasts case.
The judge said Dutt had committed a series of offences and that he was mature when he committed these offences.He added that Dutt had made co-accused Yusuf Nalwala commit an offence as well.